Welcome to Designs By Laila's blog! Thank you for joining us today in the Harvest Haven Fall Tour 2016, hosted by Summer from
She Leaves A Little Sparkle
. I also want to thank you for visiting me after Amy from
Crazy Chic Design's
fall home tour...don't you just love everything about Amy's home?! With so many beautiful & unique styles, I've collaborated with some amazing bloggers to bring you a lot of inspiration to help you find ways to decorate your home for Fall this year! Be sure to check out all their homes at the end of this post.
I'm SO excited to show you the changes I've made in my home this Fall! I've actually did something quite different this year that I've never really done before. But first, if you have been following me along on my
Instagram
journey, you might be wondering why this room looks so different? You may have noticed, there used to be a white sofa in this room before. Yup, I did a room swap & my family and I absolutely LOVE the new look! I always believe, change is always a good idea. I couldn't wait to share the new reveal with you. Say hello to my new family room!
Fall is such a beautiful season but I have to say, I will miss Spring and Summer. Spring by far is my favorite season! If I have to compare the two seasons; I interpret Fall as plants, flowers & some tress slowly deteriorating, drying and falling. I don't mean to sound too sad lol but I just love nature so much that I don't want to see it go away like that. But the colors of Fall is so warm and pretty that all I want to do is just cozy up and cuddle. With Spring, I interpret it as new growth, new life and new beginnings. Everything around you is flourishing, blooming and growing... it just gives me a burst of energy.
As for Fall colors which are mostly pretty reds, yellows, browns and oranges...I enjoy these colors for outdoors/nature only. To be quite frank, I don't really decorate with those colors in my home because it doesn't really go with my style. I feel the colors for Spring are more me... blush pinks, whites, soft blues and purples; to name a few. Nevertheless, I added some simple Fall touches in my home and do what I haven't really done before is incorporate more of natural elements in my decor. You can see in my accessories on my coffee table and pillows.
Here's another angle of our new coffee table. You can't really tell from pictures but this table is quite huge! And it happens to be the only size that would fit our large blue sapphire sofa from ZGallerie. At the store, this sofa comes in white but we placed a custom order because we wanted it in blue. Here's the link to our sofa: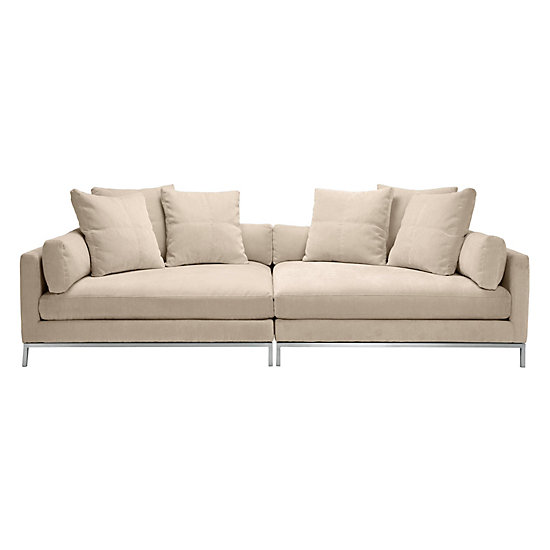 This area has become my new favorite corner! Loving this gorgeous embroidered gold pumpkin pillow I also found at HomeGoods.
Here is a closer look...doesn't it remind you of Cinderella's magical pumpkin carriage?! :)
Blue velvet, winged arm chair is also from HomeGoods. I was actually lucky to find this near my location. Ive learned that if you spot something you like and don't buy it that day at HomeGoods, it will definitely be gone the next time you go back...I didn't want to take any chances & was so lucky to bring it home. I've linked similar chair for you here:
A larger view of our new family room. Ever since we swapped rooms, we have spend more time in this room because everyone in my family is saying it's more comfy...hearing that makes me one happy girl!
Moving on to my dining area...Another area where I added simple Fall touches. Besides flowers, another thing that I'm obsessed with is candles. I just love the elegant, & simplicity of beautiful candles. It instantly creates a warm, cozy and inviting ambience.
The gold leaf tray is from HomeGoods and I simply added Fall potpourri around the candles and you can feel Fall is in the air when you see this tray sitting on my dining room table when you walk in.
I hope you've enjoyed my Harvest Haven Fall Tour & thank you so much for visiting! I always enjoy having you guys stop by. Please go to my friend Tamara's home over at Citrine Living next. You wont want to miss!